The 17th Annual Screen Actors Guild Awards was held last Sunday, January 30, 2011 at the Shrine Auditorium in Los Angeles, CA.

Just for a quick re-cap for those of you who didn't get to watch it, the winners were:

Best Motion Picture: The King's Speech
Best Male Actor: Colin Firth, The King's Speech
Best Female Actor: Natalie Portman, The Black Swan
Best Supporting Male Actor: Christian Bale, The Fighter
Best Supporting Female Actor: Melissa Leo, The Fighter

Now that you know who won, let's go see what the celebs were wearing! :)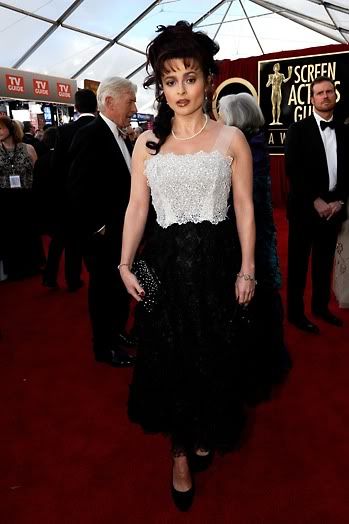 Helena Bonham Carter

I was really surprised to see her clean up well.
She actually looks really good. Minus the weird hair.

Funny thing she said when she was being interviewed, "I'm not going to make it in the best dressed list anyway, so might as well make it to the worst." LOVE IT!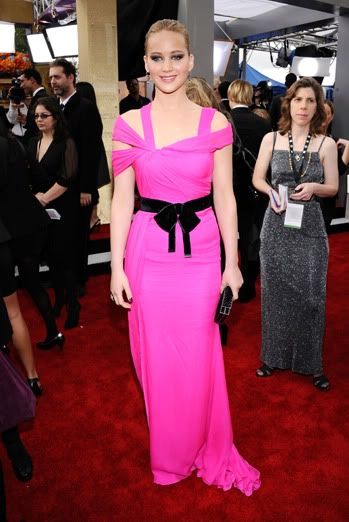 Jennifer Lawrence

I love the cut of her dress. It's very flattering.
Although, not really sure about the color. It kind of hurts my eyes.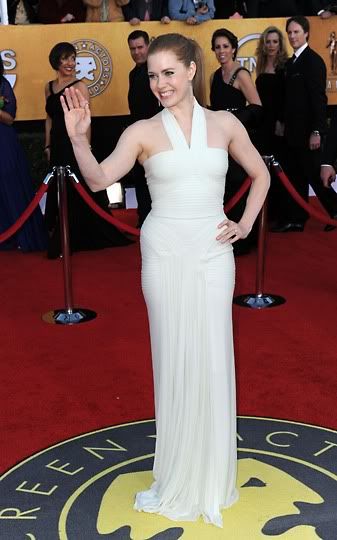 Amy Adams

This gown looks lovely on her. It really embraces her curves!




Natalie Portman

I'm so glad that she dressed up waaay better than she did at the Golden Globes.
This white dress really compliments her skin color and I LOVE the silver beading on her neckline. Her baby bump's cute too. :]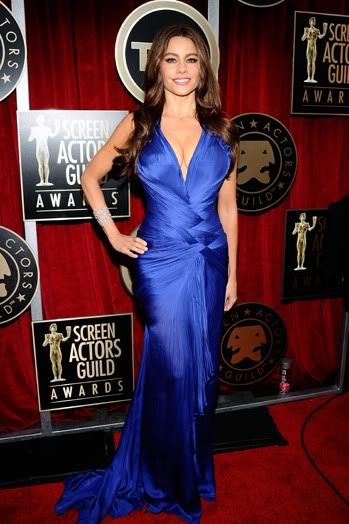 Sofia Vergara

She has such a nice body. Everything she wears just fits perfectly on her.
What more can I say?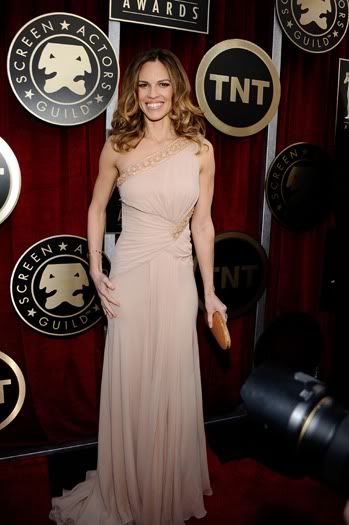 Hilary Swank

I've always thought Hilary Swank was pretty. I love that her dress is a one shoulder. And I think that the nude color looks good on her.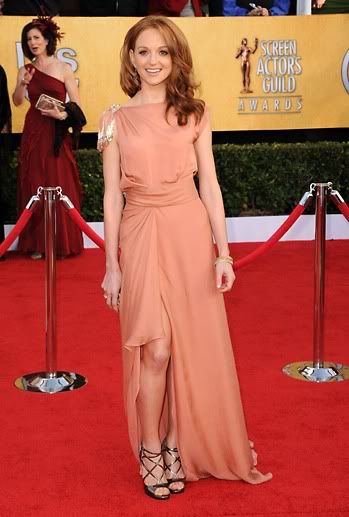 Jayma Mays

There is something about her that just makes her looks soooo pretty.
I can't quite pin-point it. but I LOVE IT!




Tina Fey

LOVE everything. The color, the lace, the hair, everything!!!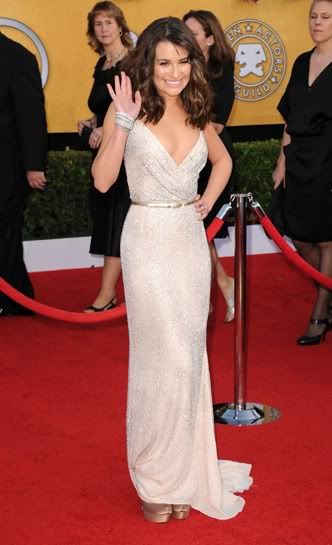 Lea Michele

I was expecting something better from her.
I admit, I was a little bit disappointed.
But she still looks good.
I just wish she picked something that hugs her body better. The fact that she doesn't have much in the bust area ruins the effect of the dress.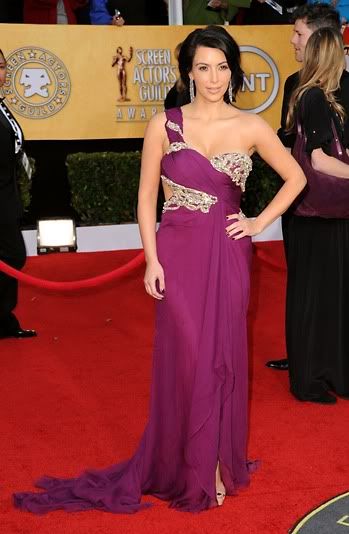 Kim Kardashian

One word: LOVE!
Especially the gold accents of her purple gown!




Eva Longoria

What can I say? She looks amazing as always.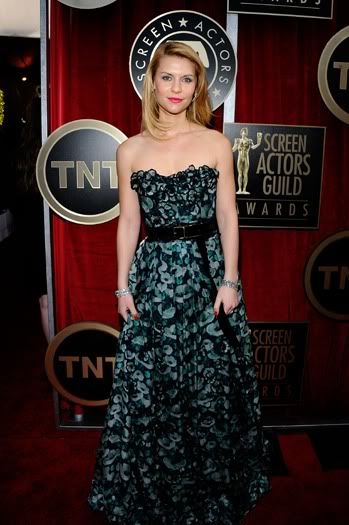 4th Place: Claire Danes

Claire Danes is wearing a Louis Vuitton dress by Marc Jacobs with Fred Leighton Jewelry.

I love the print of her gown.
It has a safari-like effect with a tropical feel to it.
The long black belt looks a little awkward though.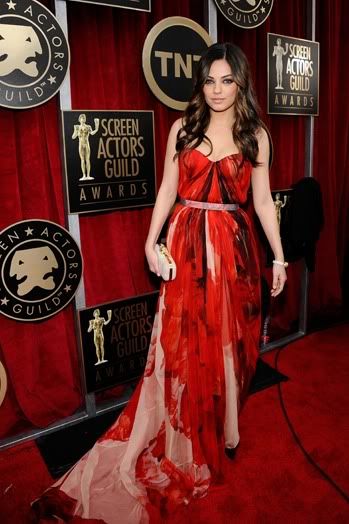 3rd Place: Mila Kunis

She is looking glamorous in her chiffon Alexander McQueen gown. She accesorized it with Cartier jewelry.

OMG, when I saw her, I fell in LOVE with her whole look.
She is honestly soooo pretty. I LOVE IT!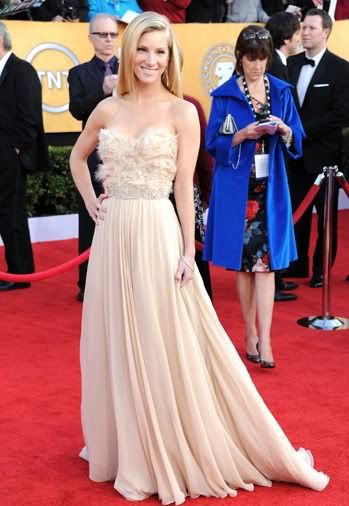 2nd Place: Heather Morris

Heather Morris steals the spotlight with her Ramona Keveza blush silk chiffon gown. The bodice of her dress has a rosette detailing and beading which adds a feminine touch to the whole ensemble.

I would so wear this gown to my prom!

I honestly couldn't pick between Heather Morris and Angie Harmon. They both looked stunningly beautiful.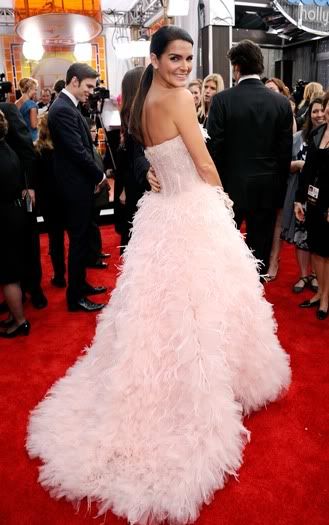 1st Place: Angie Harmon

She sparkled in her pale pink-feather gown by Monique Lhuillier. It has a beaded bodice that adds so much character to it.




This my favorite look of the night!!! You can see why.
I love the feathered effect of her gown. It's just perfect.

I love her sleek ponytail. There is so much going on with her gown, so the simple, low ponytail was just right. I JUST SIMPLY LOOOOOOOOOOOOOOOOVE IT!

What about you? Who were your top picks from the 17th Annual Screen Actors Guild Awards?