I thought this was pretty interesting.
I agreed with most of them.
Just thought I'd share it with those of you guys who didn't pick up this issue of Glamour magazine...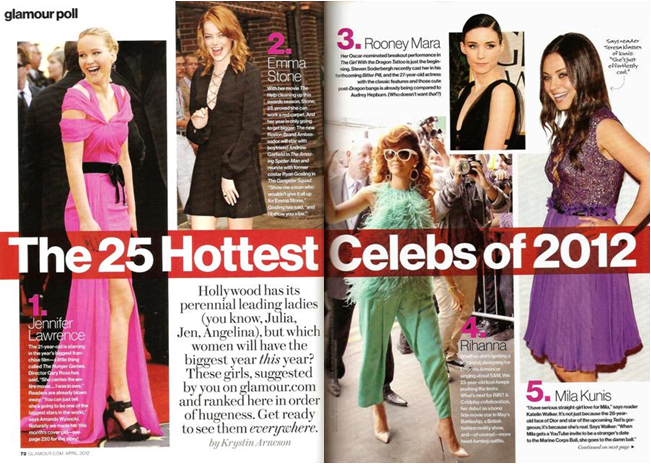 THE 25 HOTTEST CELEBS OF 2012

1. Jennifer Lawrence -- Why wouldn't she be #1? She's the girl everyone's talking about.

2. Emma Stone -- Ah, I've loved her sense of humor ever since Superbad!

5. Mila Kunis -- Talk about girl crush!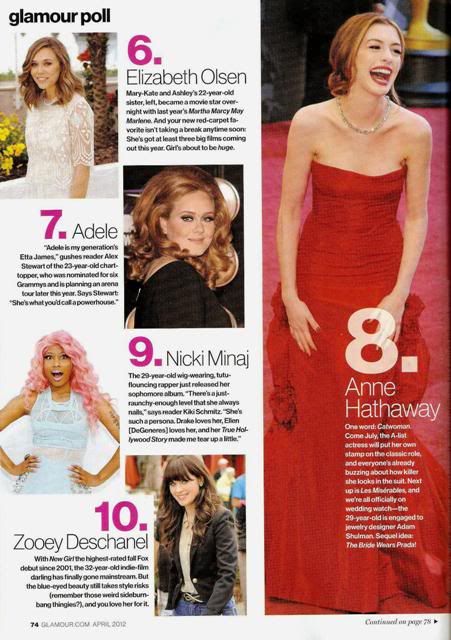 7. Adele -- Her strong voice and her new do makes her irresistible.

8. Anne Hathaway -- It's hard not to love this wide-eyed girl. She's gotten so skinny though. :/

10. Zooey Deschanel -- Everyone fell in love with Jess in her new hit series "New Girl".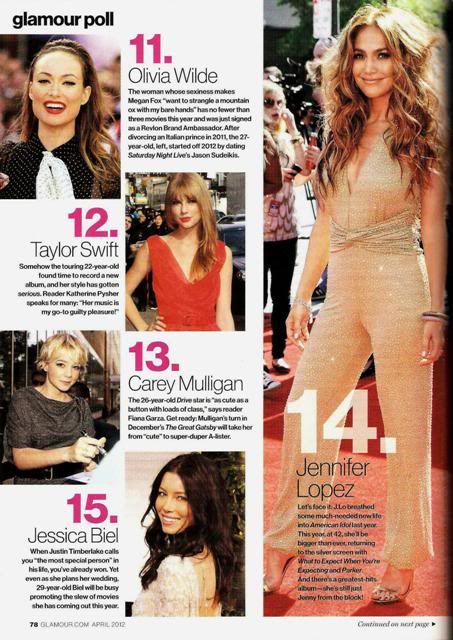 11. Olivia Wilde -- I recently watched The Change Up. She's so pretty in that movie!!!

12. Taylor Swift -- She is rocking that front bangs!!!

15. Jessica Biel -- Loved her in Valentine's Day. HILARIOUS!!!




16. Amanda Seyfried -- I am so happy for her. She's had a successful career over the last few years. I just recently watched "In Time" and can I just say how intense that movie is! Definitely worth watching.

18. Kristen Stewart -- She's hilarious without even trying.

19. Kirsten Dunst -- How beautiful was she in that Bvlgari Mon Jasmin Noir Ad?!

22. Emily Blunt -- Everytime I see her, I remember "Devil Wears Prada". Haha.


Do you guys agree/disagree to any of these? Any thoughts?
TWITTER!
MyLifeAsCarrie