The

"Denim"

trend is back!
Everything denim is what it's about this season.
Lately, I've been into wearing

denim-inspired

clothes.
I love to dress them up and down, depending on my mood.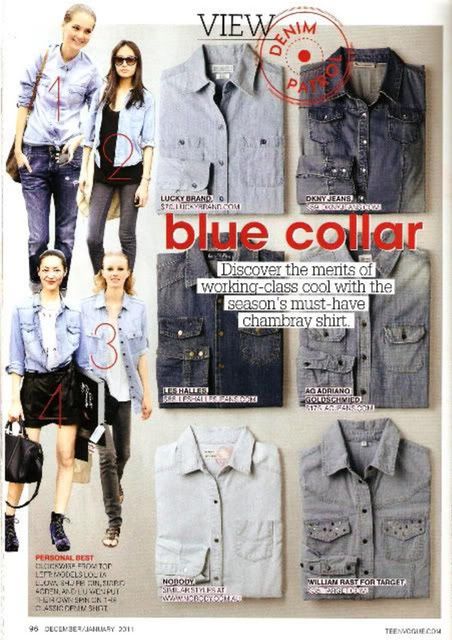 These

denim
oxford shirts are "in" right now.
Everyone is wearing them.
I own about 2 of them and I wear them all the time.
I made a polyvore so I can show you guys different ways to rock these

denim

collared shirts. :)
1. "Rocker-Chic"
Rock a jean-on-jean look with this ensemble. It's totally in.
You can pair your

Denim

shirt with different studded accessories to add a rock-ish feel to the outfit.
Finish it off with black lace-up boots and a black messenger bag.
You are ready to rock and roll all night!
2. "A play of Colors"
You can play a pop of color with this outfit.
Pair your

Denim

shirt with a pair of white pleated shorts and a brown braided belt.
Pair it with red toms (or any kind of bright shoes you have) and a red messenger bag.
Accessorize it with a straw fedora hat and fun colored bangles.
Now you are dressed to shop til you drop.
3. "Fun and Flirty"
Be your fun and girly self with this combination.
Wear your

Denim

shirt as a blazer over a floral maxi dress.
Pair it with cute studded brown sandals and a matching brown bag.
Don't forget to add a couple of bangles.
You are set for a stroll on the boardwalk.
Which outfit combination did you like the best? How would you rock a Denim look?
"Style is an expression of individualism mixed with charisma. Fashion is something that comes after style."