Lush is a store that makes fresh handmade cosmetics.
Most of their products are all-natural.
I love walking into a LUSH store. The moment you step foot in their store, the smell is just amazing.
I LOVE IT!

Candy Fluff Dusting Powder

Dusting powder with iridescent and golden sparkles and a tantalising fluffy fragrance. Shake it all over your body for smooth, twinkling, perfumed skin.

I can't really remember how much this was. Probably around $11.


You have 2 choices on the way you want the powder to come out.
I guess it would be the nozzle? but not really. (I hope that made sense.)

The one above is the small holes. You can use it if you only want to use a small amount.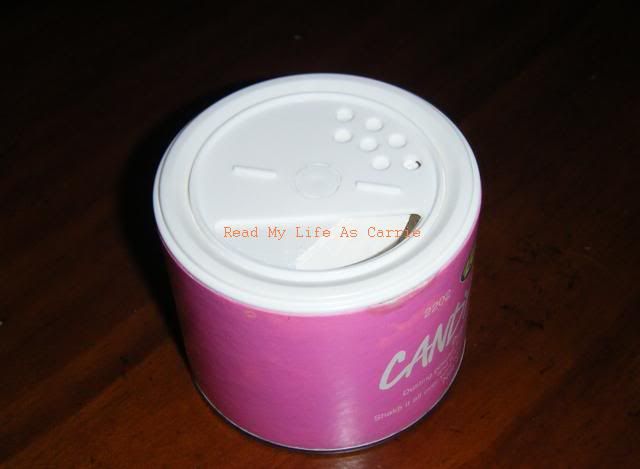 This one is the big hole. I never really used this one. Just because I never needed a big amount of powder. :D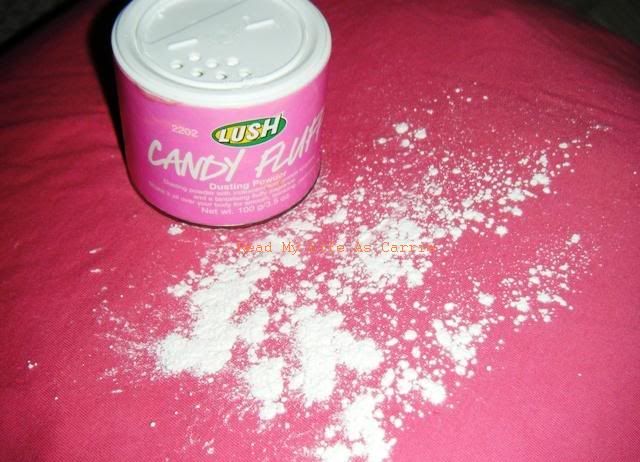 I wanted to show you guys how the powder looked like.
It's color white.
It smells like cotton candy with a dash of vanilla undertone.
It is similar to Snow Fairy so if you've tried that one, you'd definitely like this.

This product is very versatile.
You can apply it to your whole body and use it as dry perfume.
You can also pour it over your pillows and sheets to leave it sweet smelling.
The smell is very long-lasting.


It has glitters when you apply it. I LIKE it because it adds a feminine touch.
And for those of you who have been reading my blog for a while now knows that I LOVE GLITTERS!

I feel very young and fresh everytime I use Candy Fluff.
It has been discontinued though. :(
But I thought that you guys should know about it.
Like I mentioned above, Candy Fluff is similar to Snow Fairy, so you can get that one if you'd like to try this product.


I would give this product an 8/10!
I would definitely repurchase. If only they hadn't discontinued it!



Have you ever tried Candy Fluff? How did you like it? What have you recently bought from LUSH?


The kids are just wild about the Cotton Candy.

~Melissa White
TWITTER!
MyLifeAsCarrie