I LOVE sleep! I mean, who doesn't right? I think my most favorite thing to do in life is to sleep. (Okay, maybe ONE of my most favorite things.)

Being in high school, I have had to endure MANY all-nighters finishing essays and term papers, studying for upcoming exams, and all those crazy high school dilemmas. It's a good thing I don't work. Imagine having to work till late night on top of all of the school work that you get?! That would drive me insane!

Here is an article from People magazine,

How much beauty sleep do you

get?,

where celebrities share approximately how many hours of sleep they are able to get every night.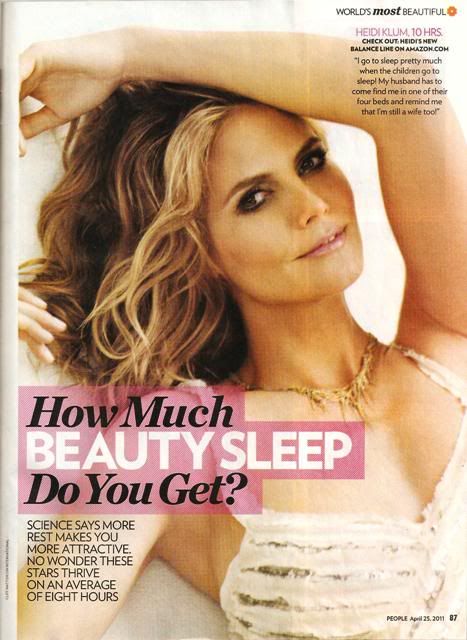 "Science says more rest makes you more attractive."
Every one has to get at least 8 hours of sleep every night!

Heidi Klum - 10 hours

Katie Holmes - 6 hours

Matthew McConaughey - 8 1/2 hours

Drew Barrymore - 3 hours

Jessica Biel - Insomnia (That sucks. I never want to have insomnia.)

Halle Berry - 9 hours


Jon Hamm - 12 hours (Daaaamn, I wish I can sleep 12 hours every night.)

Ellen Degeneres - 8 1/2 hours

Zac Efron - 6 hours

Christina Aguilera - 8 hours

Jessica Alba - 8 hours

Jennifer Lawrence - 8 hours

Hugh Jackman - 7 hours

Jennifer Hudson - 8 hours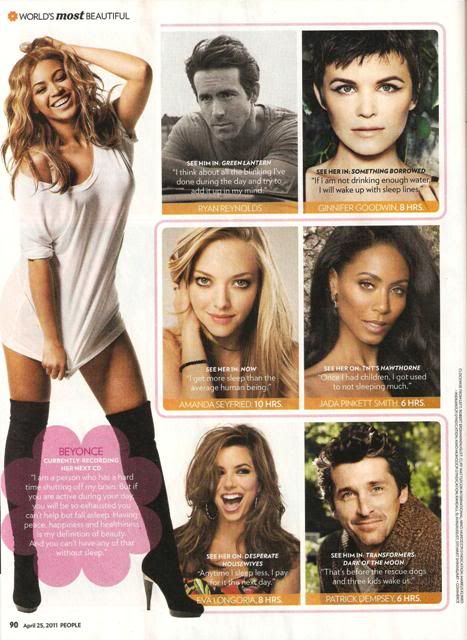 Beyonce - Sleeps when she's sleepy. (I like that!)

Ryan Reynolds - indefinite (He adds up how many times he blinks in one day?! That's crazy. I guess he means that he doesn't really get that much sleep.)

Ginnifer Goodwin - 8 hours

Amanda Seyfried - 10 hours

Jada Pinkett Smith - 6 hours

Eva Longoria - 8 hours

Patrick Dempsey - 6 hours


I try to get at least 5-6 hours of sleep every night when school is in session. But I try to make up for it during the summer. Although I LOVE to stay up really late. Hey, it's summer! :D

How many hours of sleep do you get?!

Sleep is the best meditation.

~Dalai Lama