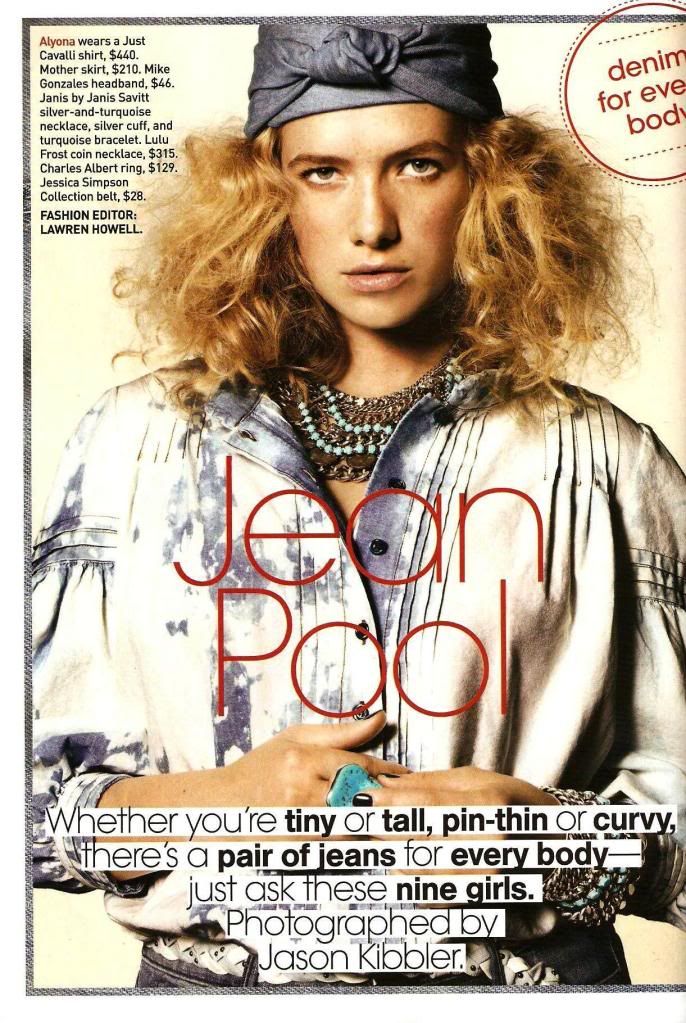 Jean Pool
Denim for Every Body

Here are many ways a person of any body type can rock denim.
I really enjoyed reading this article

Not only was I able to see which kind of denim fits my body type the best but I was also able to get inspirations on how to rock them.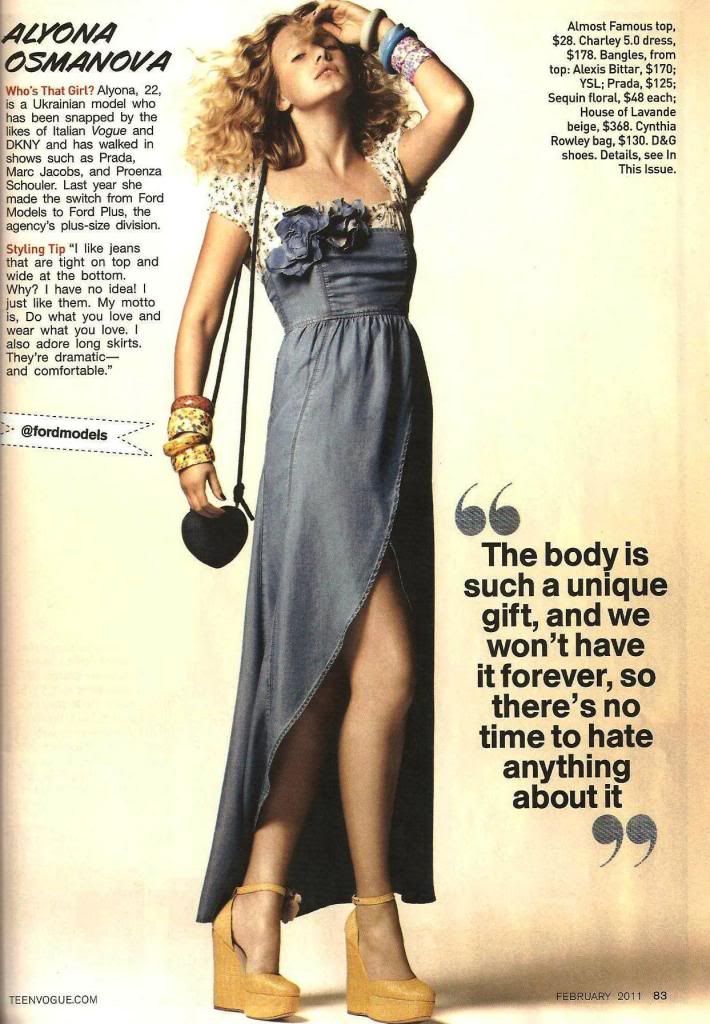 Alyona Osmanova
22 years old, Ukranian model

She loves to wear jeans that are "tight on top and wide at the bottom".

Here, she is wearing a Charley 5.0 denim dress.
I love how she paired it bright yellow shoes for a bit of a color pop.




Sarah Hyland
20 years old, Actress

Since she is short and petite, her favorite type of jeans are the ones "with flap pockets on the butt" to create the illusion that she has one and "denim cutoffs" to make her legs look long.

I like how she went for a casual comfy look.
She's wearing wallflower shorts with an Isabel Marant Eloile sweater.
I LOVE how she wore knee high socks to complete the look. I can totally rock this look one of these days at school.




Kay Panabaker
20 years old, Actress

She loves to wear denim mini skirts to make her legs look longer.

Kay rocks a denim on denim look by pairing a pair of dark washed denim skirt with dark washed Hudson denim jacket. I actually bought a denim skirt but for some reason I never wore it.




Sloane Stephens
17 years old, Tennis player

Being an athlete means having tons of muscles. Sloane prefers stretchy denim material because it fits her muscular legs the best.

I love her Le Mont St. Michel skirt. It hugs her curves really well.
I also love how she paired with bright yellow AG Adriano Goldschmied tank top.




Hayley Hasselhoff
18 years old, Actress

She has a curvy body so skinnies and high-waisted jeans work the best for her. It accentuates her waist, lengthens her legs, and shows off her figure.

She looks great in her Diesel Black Gold Jacket. I love how she added the black patent belt to hug her at the waist.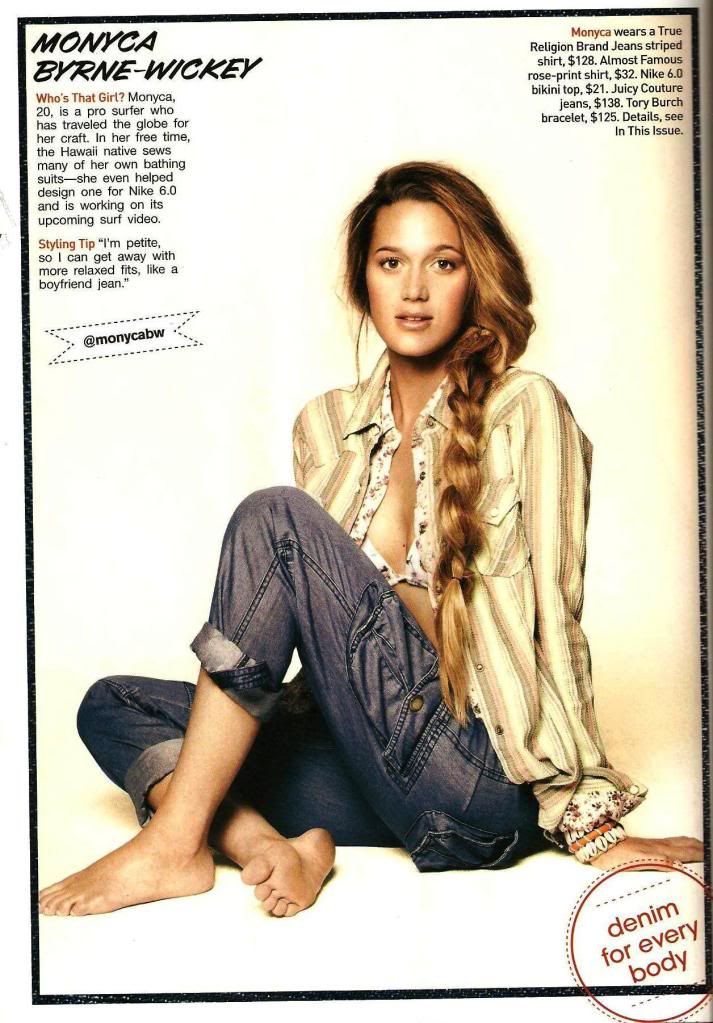 Monyca Byrne-Wickey
20 years old, Professional Surfer

She loves wearing more relaxed fit denims like boyfriend jeans.

I really really like her Juicy Couture Jeans.
I need to go shopping for some boyfriend jeans.




Laura Love
19 years old, Model and Ballerina

Laura prefers to wear shorts over jeans. Since she has extremely long legs, it's difficult for her to find jeans that have long enough inseam.

I think she's beautiful. I've always wanted to to be a ballerina ever since I was a little girl. I love what she's wearing. It's very laid back.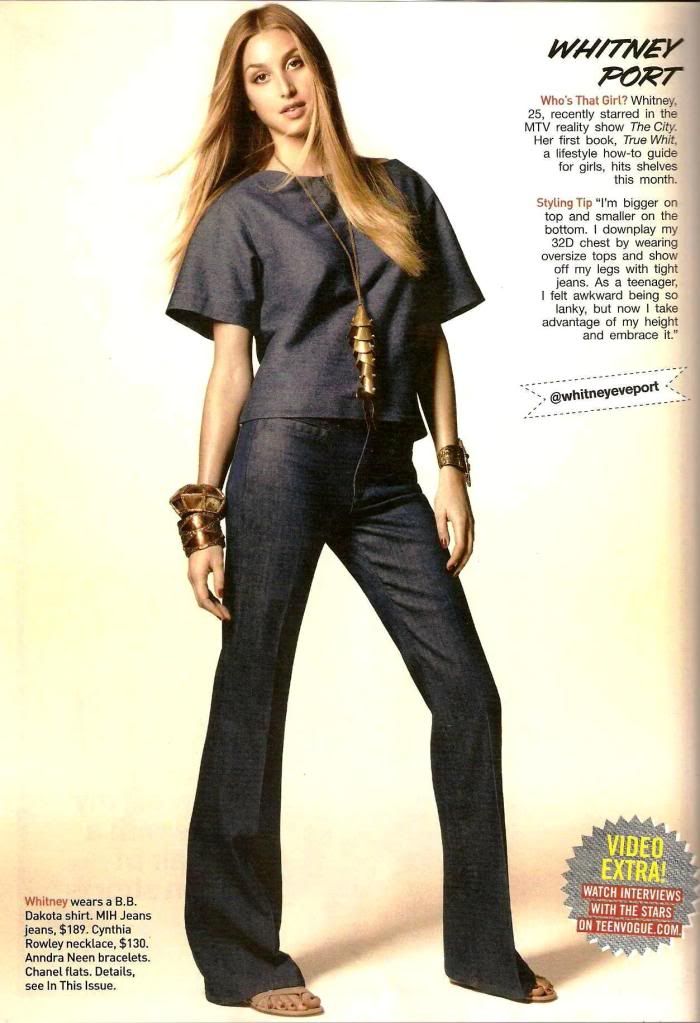 Whitney Port
25 years old, Reality Star

Since she's bigger on top and smaller on the bottom, she loves to wear loose oversized tops paired with really tight jeans.




Jasmine Villegas
17 years old, Singer

She highlights her curves by rocking fitted jeans. She believes that "girls shouldn't wear clothes just because they're in fashion".

I love her top! It's very sophisticated and I love the color. I also like how her jeans have patches on them. It's a bit different.


I hope you guys enjoyed reading this post. And I hope that it helped you guys find out which type of denim looks best with your body type. :D


I have often said that I wish I had invented blue jeans: the most spectacular, the most practical, the most relaxed and nonchalant. They have expression, modesty, sex appeal, simplicity - all I hope for in my clothes.
~Yves Saint-Laurent
TWITTER!
MyLifeAsCarrie