I personally think that it's important to have staple pieces in your wardrobe that you can wear with anything.
Blacks, blues, grays, nudes -- these are basic colors that any girl MUST have in her closet.


I have been wanting a pair of black combat boots. They just look really cool and rock-ish. Haha.
So I got these (courtesy of Sammy from Shoetopia!) --
Soda Shoes Oxford Style High-Top Laces
.
They are ONLY $16.49. Take it from me, it's definitely a steal!!!
They come in 3 different colors -- brown, black, tan.

*** *** ***

I put together 5 different outfits for you guys.
I want to show you how I would, personally, dress these oxford boots.

1. Coachella Ready!


Michiko London White Lace Top/Old Navy Jean Shorts/Forever 21 Sleeveless Cape/Soda Shoes Oxford High Tops/To Die For Jewellry Feather Earrings/H&M 3-ring Necklace



It's been a bit warm here in LA, so this outfit is perfect this time of year.




The black cape and the booties maked the look very rock-punk. It adds an edgy feel.




My sister and I are planning to attend Coachella this year and this outfit is PERFECT! :D



2. Feeling Vintage?


Forever 21 Lace Dress/BASS Denim Jacket/Soda Shoes Oxford High Tops/Colorful Beads Necklace/Dark Brown Oval Bangles



This outfit is very old and vintage looking.




The lace dress makes it fun and girly while the denim jacket, along with the booties, spices it up a bit.




It almost gives it a "bad-girl" feel.



3. Flirty Florals.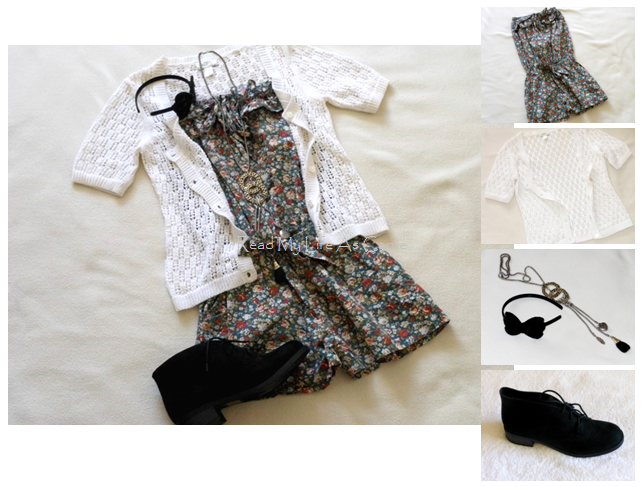 Floral Romper/Ann Taylor LOFT Crochet Outerwear/Soda Shoes Oxford High Tops/Forever 21 Bow Headband/Silver & Black Necklace



This springtime outfit will surely catch everyone's eyes.




This is my favorite pair of romper. I've worn them countless times, I'm surprised they're haven't ripped or anything.



4. Date Night.


Forever 21 Tribal Print Mini Dress/Brown Knitted Cardigan/Soda Shoes Oxford High Tops/3-set Brown Bangles/Different Handmade Tie Bracelets/Black Braided Belt



I would wear this on a date night with family or friends.




It's not too formal but not too casual either.




It may not look like it, but this cardigan is really really warm. I LOVE IT.



5. Dare to Wear.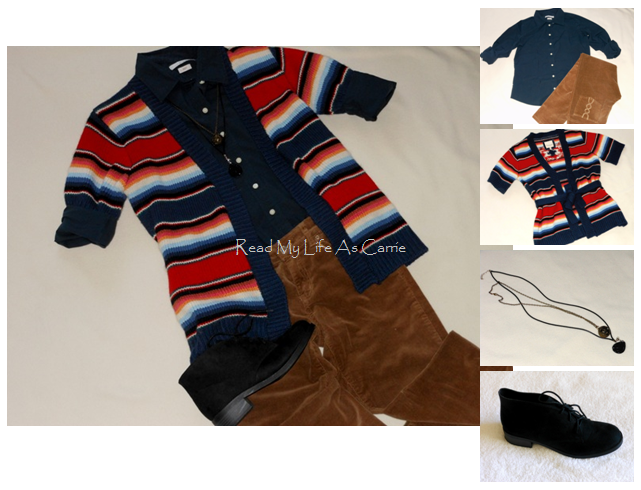 Old Navy Button-Up Polo/Milly Jeans Corduroy Pants/Forever 21 Stripes Knitted Cover-up/Soda Shoes Oxford High Tops/Gold & Black Necklaces



This one, I think, is something a bit different. It's a bit daring to mix a rusty colored pair of jeans with a vibrant color striped knitted cardigan.




I opted for a plain button up polo shirt because there's already a lot going on with the cardigan and the jeans.




Keep the accessories simple with gold and black neclaces.




I know I say this A LOT, but I am TOTALLY in love with these booties. I've worn them 3 times ever since I got them.
I've also gotten so much compliments, it's insane.
All my friends love them, so I'm sure you will too.

Which one was your favorite outfit? Which look best describes you?


"I think there is beauty in everything. What 'normal' people would perceive as ugly, I can usually see something of beauty in it."
~ Alexander McQueen
TWITTER!
MyLifeAsCarrie