If you have been reading my blog for a while, you'll know that I only wear eye shadows on special occasions.
I feel like it's too much if I include a smokey eye in my everyday makeup for school so I stick with the neutral look.

Lately though, I've been having fun experimenting with different eye looks.
Now that I only have less than 2 months left of school, I have a lot of senior events coming up like Senior Awards Night, Pre-Prom Fashion Show, PROM, and of course, Graduation. :D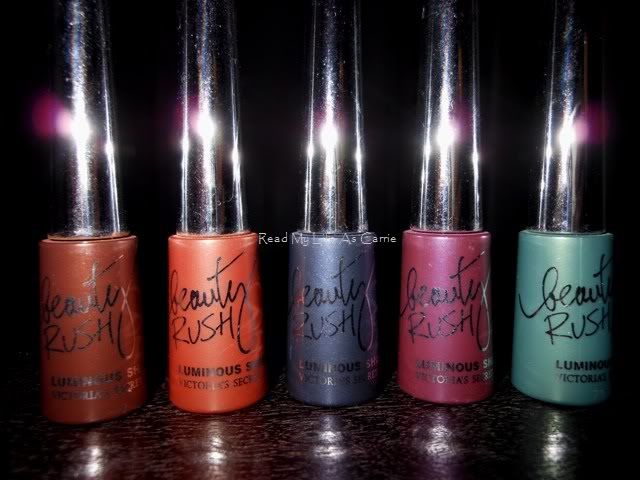 Victoria's Secret BEAUTY RUSH Luminous Shadows$4.25 each

I've been enjoying trying these Beauty Rush eyeshadows.
I think I've created atleast 5 looks using these products.
I like all the fun colors.
It's super pigmented which is one of the things I love about it.
It also has a built-in sponge applicator, but I still use my brush to even it out.
I can bring it with me anywhere I go.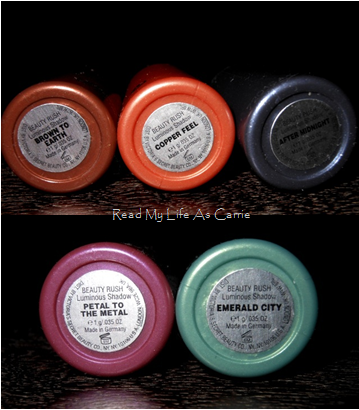 These are the names of the colors that I got:

1. Brown To Earth -- a dark brown color
2. Copper -- an orange-y, coral shade
3. After Midnight -- a purple-ish, blue color
4. Petal To The Metal -- a fuchsia, lavender color
5. Emerald City -- a light shade of jade

My favorite colors are Emerald City and After Midnight.
After Midnight works great for a smokey eye night look.
And Emerald City is perfect for a light day look.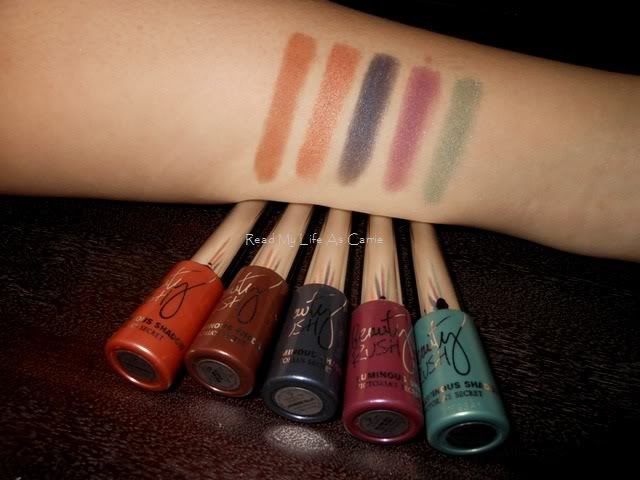 Here is a swatch of each of the colors.

As you guys can see, they're all very pigmented.
It also has shimmer, perfect for a formal look.
I used the built-in sponge applicator for these swatches but I highly recommend using an eyeshadow brush afterwards to spread it throughout your eyelids.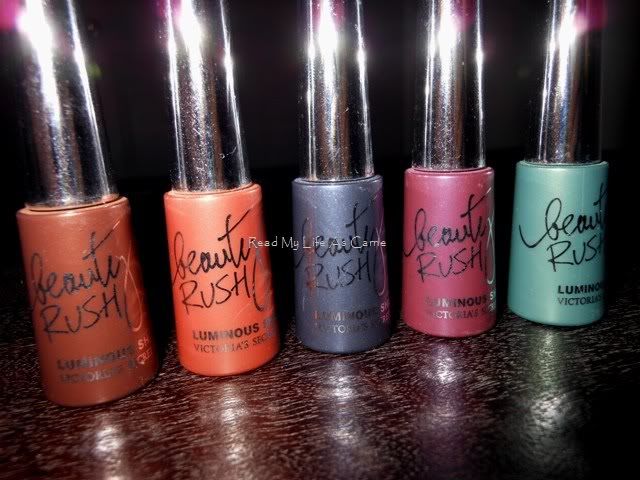 I give this eyeshadow a 3.5 out of 5.

Have you ever tried the Victoria's Secret BEAUTY RUSH Luminous Shadows? How did you like them?


Congratulations to Mimi, Kat, and Olivia for winning my Shoetopia Giveaway! I'll be emailing you shortly. :D
TWITTER!
MyLifeAsCarrie