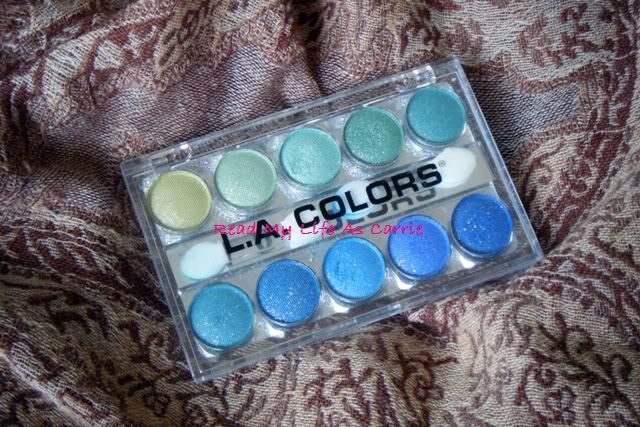 L.A. Colors Elizabeth Palette

Shades of Blue

Bring out the starlet in you! These glittering eyeshadows are sure to make you glam! Each set comes in 10 coordinating colors, complete with mirror and 2 dual ended applicators.

$ 2.50

I bought this palette at Cherry Culture. It's a really cool website. There is a lot of discount prices and shipping is fast. You should definitely check it out.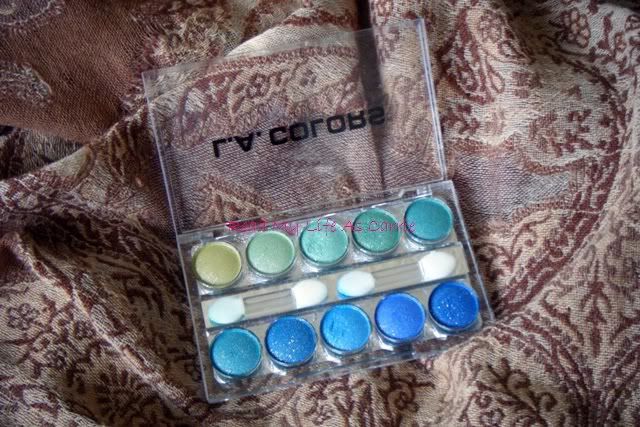 I know that most palettes usually have a name for each shade of color, but this one doesn't. I don't really know why.

The packaging is great. It snaps close tightly and it doesn't open easily even if you drop it. Trust me, I've tried it.

There is a tiny mirror in the middle of the palette, but it's not exactly useful. It's very hard to see your eyelids during application so I suggest that you use a bigger mirror when using this. Or you can also bring a compact mirror when traveling.

The dual ended applicators are very practical if you are on the road. You don't need to bring an eye shadow brush. But if you are using it at home, it is better to use your own makeup brushes, makes application and blending faster.


Here is a swatch of ALL of the colors.


It has no smell whatsoever, which is a plus. I always prefer unscented eyeshadows.

The glitters adds a "glam" feel to the colors. When you are applying it, some glitters will fall on your face and it is quite noticeable. I leave it on and blend it because I like how it looks. It's sparkly and it serves as a highlight/shimmer at the same time. If you don't like the shimmer on your upper cheeks, it's nothing a quick swipe of Kleenex won't fix.

This palette is very budget friendly for students.

It is also a great gift ides for friends and families that are starting with makeup.

Prom season is coming up, so this is going to be of great use for me. I'm going to be helping out my sister and friends on their hair and make-up.

I'm so excited to create different looks with this palette.

Since the Elizabeth palette consists of blue shades, you can style it up with blue colored clothes.

I made a Polyvore for inspiration, JUST FOR YOU GUYS!

You can dress formal with a striking ruffled top, white jeans, and a pair of blue glittered pumps.

Go for casual with a a blue long sleeved shirt, dark wash jeans and a pair of baby blue Nikes!

Just create a smoky eye look with this palette, add some lipgloss, and YOU ARE GOOD TO GO!

Remember, you can mix and match anything you have in your closet. JUST MAKE IT YOUR OWN!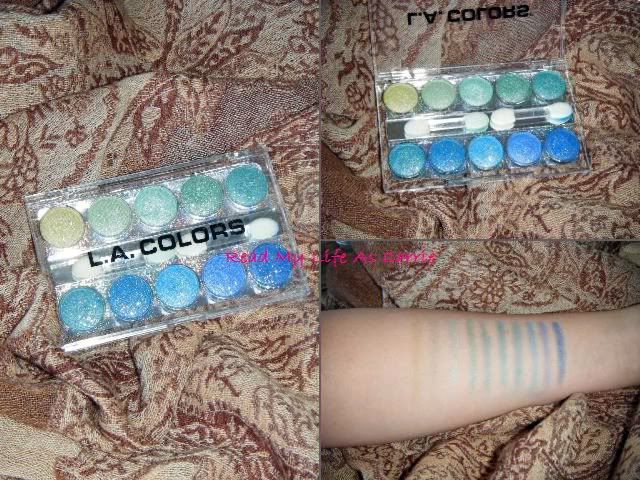 Have you ever tried any of L.A. Colors' eye shadow palettes? How did you like it?



"Blue color is everlastingly appointed by the deity to be a source of delight."
~John Ruskin