The

2011 Teen Choice Awards

was held at the Gibson Ampitheatre, last night, August 7, 2011.

If you weren't able to watch it, you can go online on the

Teen Choice Awards

website to see the whole list of winners. :D

They also had a Harry Potter tribute. Ahh, and Tom Felton and Rupert Grint were there too while Daniel Radcliffe was there via skype.

There were so many young actors and actresses present at the Blue Carpet.
Some look great, some looked not so great. It's been a long time since I've done a

LOVE IT

post, so here it goes! I HOPE YOU ENJOY IT.

Here is the recap of the

2011 Teen Choice Awards

Blue Carpet!


Taylor Swift

I don't LOVE this look but I don't HATE it either, so I just decided to include it in my LOVE IT post. :D

I actually like the dress and her shoes, but I don't think it was appropriate for the Teen Choice Awards. She looks like she's attending a wedding. Definitely not the right choice.

I also think that Taylor Swift should really start experimenting with new looks. Because this one's really getting old. Don't you think?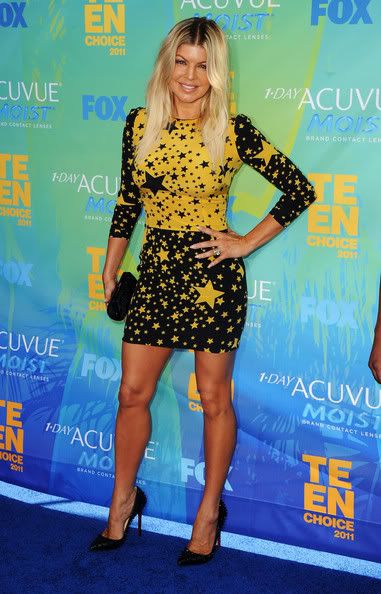 Fergie

I like her dress and the fit is great! I just sort of wish that it wasn't stars on the print. I'm really not a big fan of stars.
She looks great though. As always. :D
Annasophia Robb

I actually really like this ensemble. But the thing is I don't know why.
I guess it's because she went for a simple look. She wasn't trying too hard.
And I really like her dress. I also love how she went for a high ponytail. It looks clean and classy.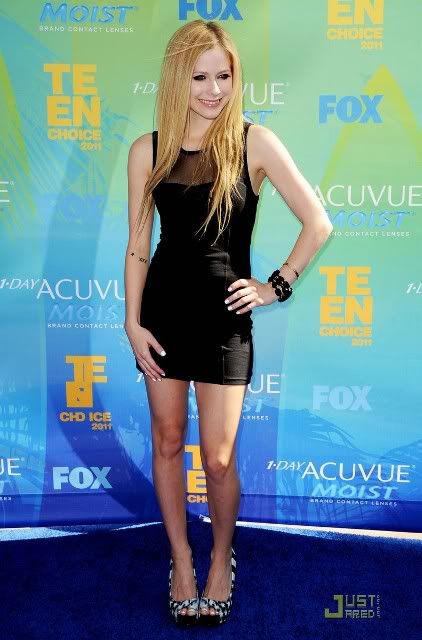 Avril Lavigne

Simple but cute!
LOVE her dress. I would definitely wear it to one of my school dances.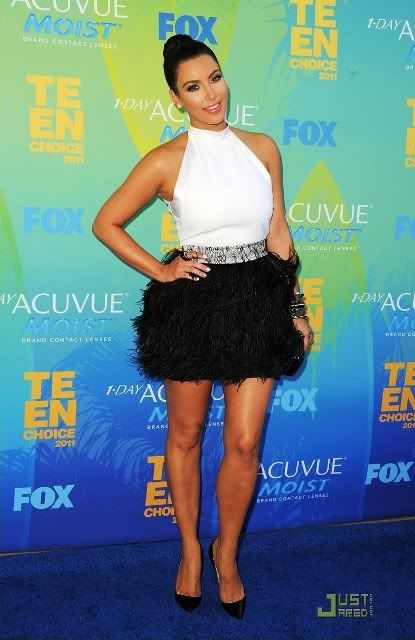 Kim Kardashian

This look is an "okay" for me.
What do you think?
The Kardashians & the Jenners

I had to include this because I LOVE Kendall Jenner's dress.
I tried looking for a solo picture of her but I couldn't find one.
But anyways, I really like the style and the color of her dress.
It looks good on her. :D
Selena Gomez

My sisters didn't like this at all! But even though I'm not a big Selena Gomez fan, I like her dress. It's different from what everyone usually wears.

Now what I don't like are her shoes! Like seriously?! It doesn't even match her dress nor her clutch. What was she thinking?!

Nina Dobrev

The nautical look is really in this season.
I LOVE how she went with one theme. Blues and whites!
I LOVE how her dress dips in the back as well.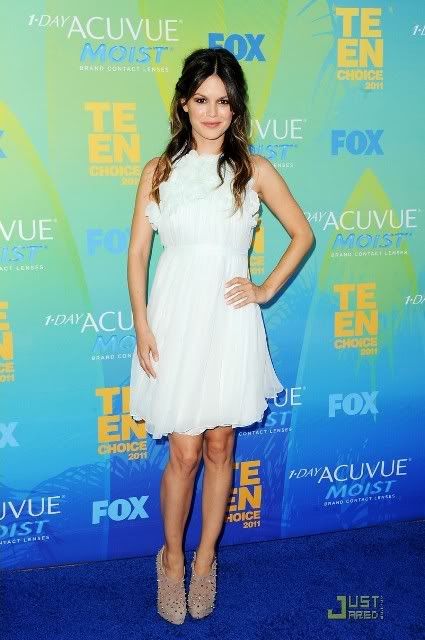 Rachel Bilson

LOVE the rosette detailing in the neckline! Very feminine.
I'm not so sure about her shoes though. I think she could've been better with nude pumps.

I can't believe she's almost 30! Dang, she looks like she's 17.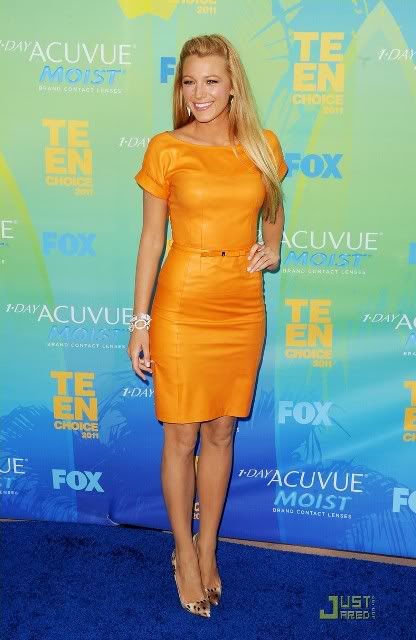 Blake Lively

Like I always say, I want her body! She's had the most perfect figure.
That's why this dress looks great on her. It hugs her body pretty well.
I just wish she wore different shoes and accessories.
Demi Lovato

Can I just say how much I'm loving her new look?! I am so glad she's back.
I LOVE this whole ensemble. She looks great. The color of her dress really brings out her tan skin! ;]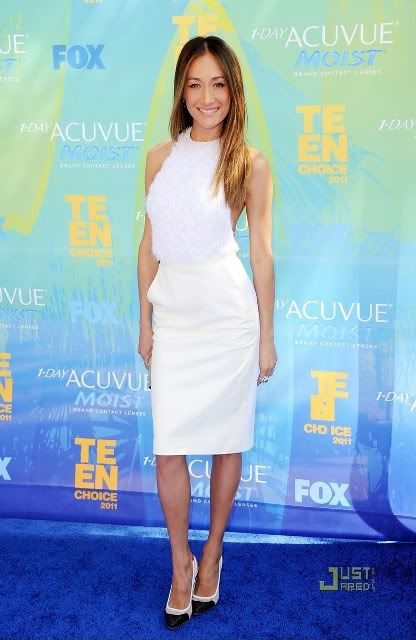 Maggie Q

Love the white!
Very clean. I also LOVE how her dress has a feathery texture at the top.
It definitely adds character.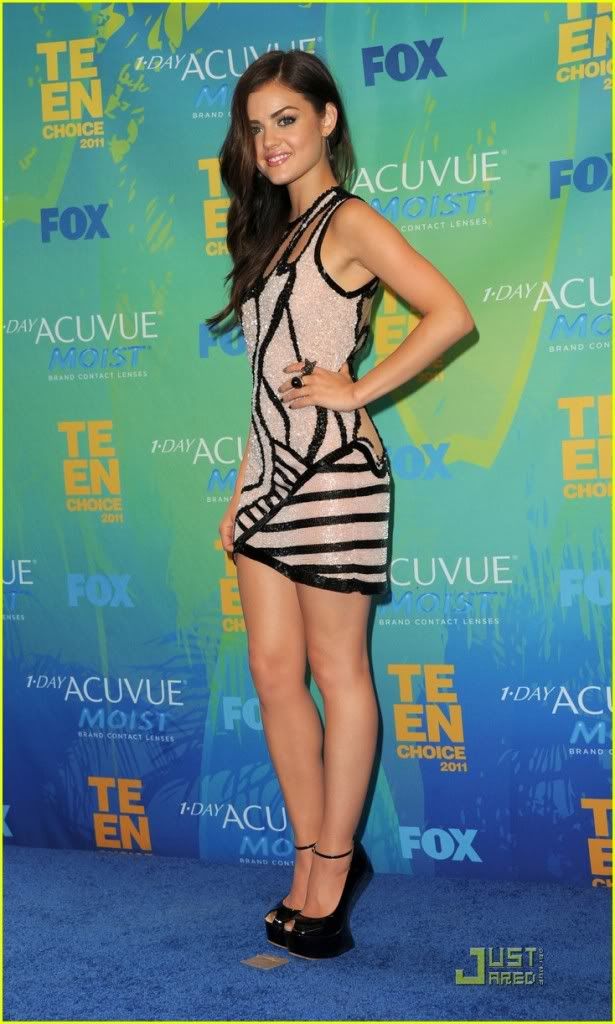 Lucy Hale

She looks GORGEOUS! LOVE her dress and LOVE her killer shoes.
I mean look at them. How did she manage to walk down the carpet?

LOVE IT. LOVE IT. LOVE IT.


Kaley Cuoco

I think this was the best look of the night!
I LOVE the flapper style of her dress. And the color looks great on her.
She went with a middle part beachy waves and she kept her accessories simple.

PERFECTION!

Stay tuned for my HATE IT post! ;]

Did you watch the 2011 Teen Choice Awards? Which one was your favorite look?
Only great minds can afford a simple style.

~Stendhal
TWITTER!
MyLifeAsCarrie