For those people who did not win my last giveaway, DO NOT FRET, because I have a treat for you guys at the end of this post. ;]





Alice, from
Who is Alibaba?
,

and I have teamed up to give one of you guys the opportunity to win a single feather earring. HOW EXCITING!

She sells over 10 feather earrings at her etsy shop,
To Die For Jewellry
.
Each piece is definitely

TO DIE FOR!

I fell in love with every single one once I entered her website.

And let me tell you, these are not your ordinary feather earrings.
Alice, herself, takes the time and effort to make each and every earring as unique as possible.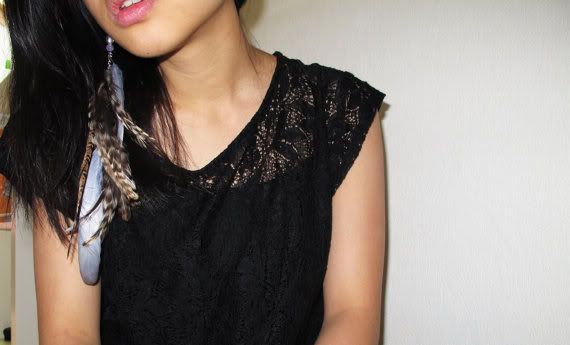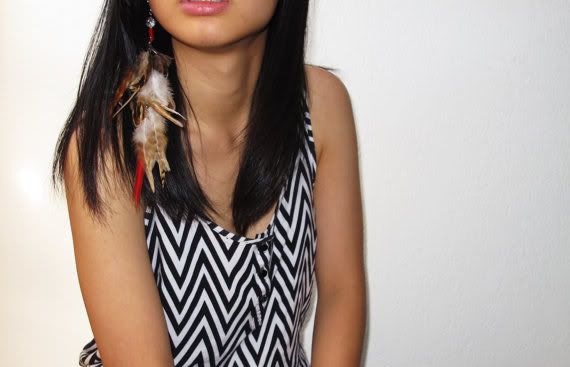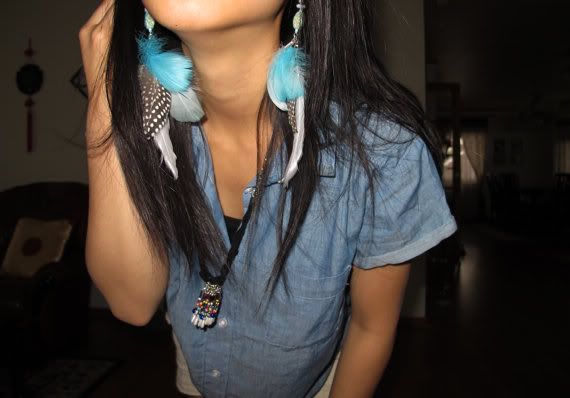 *pictures from http://www.etsy.com/shop/ToDieForJewellery*




Here is a mini interview with Alice:

1. How long have you been making feather earrings?

A: I started to make feather earrings late last year, about November 2010. When I was a kid I always loved to be creative. Making stuff from scratch or recreating a lot of other things was just normal for me. So this feather earrings project was first of all a random project I started. I wanted to make feather stuff to myself, but it developed very fast.

2. Has it always been a hobby of yours?

A: Yeah, it's just a side project. I have my last year in high school. After that I'm thinking to go study art or choose creative subjects at a University. It means I have plenty of time to make feather earrings and be creative.

3. How long does it usually take you to make one earring?

A: Well it depends how long every feather earring is. It takes couple of hours because every one of them is specially designed. None of the earrings look alike.

4. When did you open your To Die For Jewelry shop? And why did you decide on opening one?

A: I started my To Die For Jewelry shop in April 8 2011. First of all I was a little bit scared that if I opened this shop nobody would care to buy anything from me, but one buyer lead to another. Tada, it didn't go too bad.

5. How do you choose the feathers, beads, or any kind of design you use in each of your earrings?

A: Each earring is special. Like I said before every feather and pearl is personally chosen by me. I like to mix different kinds of feathers together and usually it comes out looking good. What I feel I would wear, I make it and sell it.

Also I make custom made. That means you have to contact me via my email (alice-1993@hotmail.com).

6. How do you think feather earrings reflect your fashion/style?

A: When I randomly meet people and they are complimenting my feather earrings, it always warms my heart no matter how embarrassed I am. What I make is what I love to wear. Style is something you can't buy, but you can buy accessories. A nice and eye-catching jewelry makes a person turn around. That's what I'm trying to make.

7. Anything else you would like to share?

A: Be yourself and creative.

The idea behind the shop's name, To Die For Jewelry is a song, "To Die For" by Automatic Loveletter. No matter how hard you try and would do anything "to die for", you will achieve the dream and the goal in your mind. Not anybody is satisfied about what you do, but as long as you love what you do, the tiny little dream inside your head will shine bright like a rainbow someday. So follow your dreams and do something that you love, whoever reads this interview.

Not that my little shop turned the tables well enough that I have tons of orders now, but I still have a path to go. And all I want to do is inspire people.

Check out my blog, http://www.whoisalibaba.blogspot.com or my shop http://www.etsy.com/shop/todieforjewellery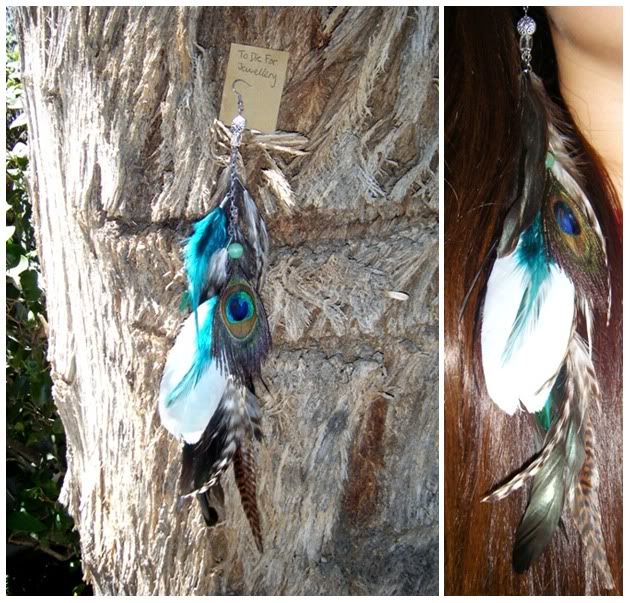 Alice sent me 2 single feather earrings, one of which I will be giving away.

I love this earring.
I wore it to school and EVERYONE was telling me how cute it was and asking me where I got it from.
I can definitely tell that it was

very well made

.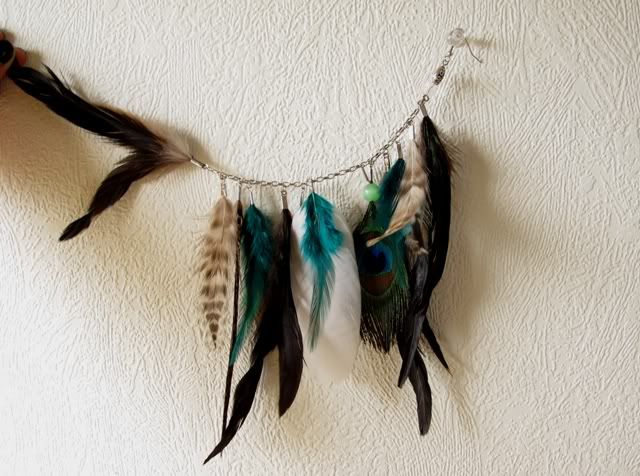 As you can see in the picture above, Alice connects the feathers individually to a chain which creates one big chunk. HOW CREATIVE IS THAT!

I also love the combination of the colors. It really goes together.
I can wear it with neutrals, blues, whites, etc...


***GIVEAWAY***

I will be giving away this one-of-a-kind earring to one lucky reader!
It's a single feather earrings designed just for you.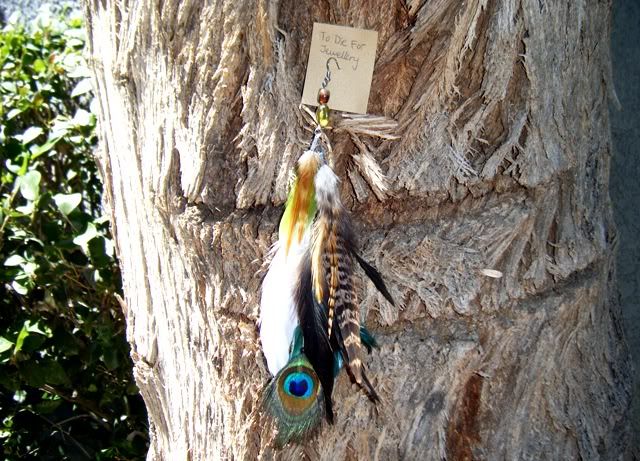 HOW TO ENTER:

1.) MANDATORY: You MUST be a public follower of
Read My Life As Carrie
.
2.) MANDATORY: Visit
To Die For Jewellry
and let me know which earring you absolutely LOVE!

EXTRA ENTRIES:
(Please leave a separate comment for each entry.)

1.) Be a public follower of Alice at
Who is Alibaba?
+1
2.) Follow
MyLifeAsCarrie
on twitter. +2
3.) Tweet about this giveaway and leave me the link on your entry. +1
4.) Blog about this giveaway and leave me the link on your entry. +3
5.) Tell me why you would like to win this feather earring. +1

This is an International giveaway and it will end on September 30, 2011, 11:59 PM PST.

GOOD LUCK!