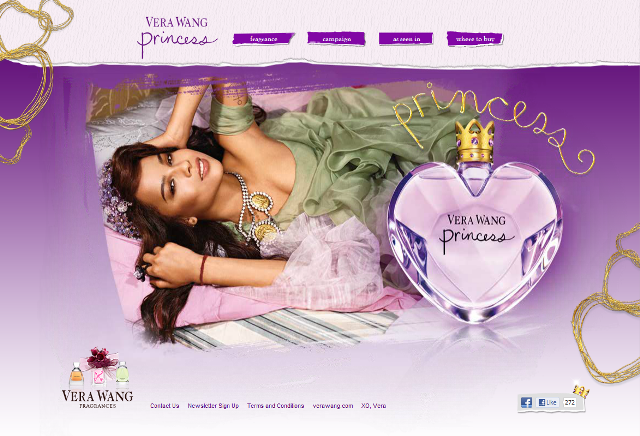 Vera Wang Princess

Fragrance:
Radiant. Whimsical. Born to Rule!

Created for the modern day Princess, this sheer, fruity floral fragrance is definitely born to rule! The scent sparkles with the captivating, sweet, tart aroma of delicate lady apples and the coveted tahitian tiare flower and finishes with a tasty vanilla chiffon - a treat fit for royalty!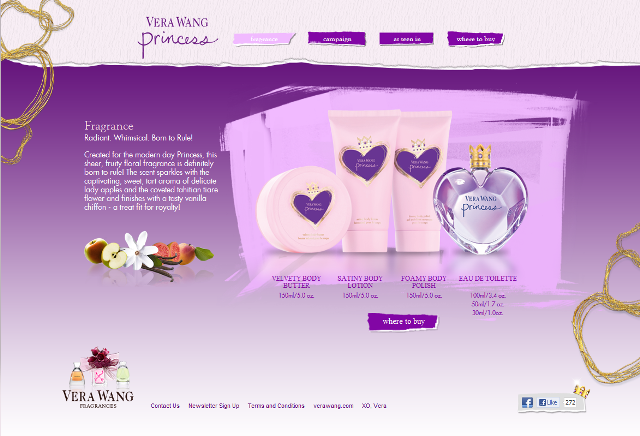 You can buy it in stores like:

Sephora
Macy's
JC Penny
Neiman Marcus
Bloomingdale's


Watch Zoe Kravitz as the Vera Wang Princess model!!!
She's really pretty, don't you think?
She kind of reminds me of Zoe Saldana.




I FINALLY got the Vera Wang Princess!
If you've read all my previous posts, I have been raving on and on about this perfume for what seems like a long time.
I'm so happy that I finally got my hands on it.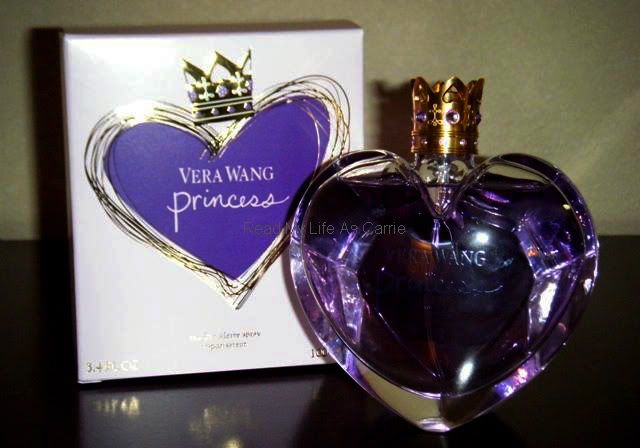 Vera Wang Princess
$64.29

I got mine from Apothica.com.
It

smells so nice

. I really love it.
This perfume contains notes like

lady apples, tahitian tiare flowers, and vanilla chiffon, golden apricot, mandarin merengue, pink guava, wild tuberose, and dark chocolate

.
You can really smell every bit once you spray it.

I like how it

lasts the whole day

. All you need is one spray and the scent will

stick to your skin for a very long time

.
I think it

smells even better as the day progresses

.




The

packaging of the perfume is great

.
I got the 3.4 fl. oz. It came in its pink box.
Inside, you'll find the actual perfume wrapped in another box, which is great because you don't have to worry about it breaking during the shipment process.

The actual perfume bottle is beautiful!
As you can see, it resembles a heart and it almost looks like it's made out of crystals.




My absolute favorite part about the Vera Wang Princess (aside from the actual perfume) is the cap.
It's shaped like a crown. Sooooo cute. Being the girly girl that I am, I really like princess-y stuff. I wanted to be a princess when I was a little kid.
(Of course, those dreams have changed a bit now that I've seen more in life. Haha.)




You can even

wear them as rings

!!!
How awesome and cute is that?!
Once you've finished the perfume itself, you can wear the cap as statement rings instead of throwing it away.
(not that you WOULD throw away the bottle. I'd probably keep it forever, or at least till I get another one.)




I can check the Vera Wang Princess Perfume off of my list, FINALLY!
Now I only need the Velvety Body Butter, the Satiny Body Lotion, and the Foamy Body Polish. And my life would be complete.
(Okay, not really. But you know what I mean.)

Have you ever tried the Vera Wang Princess? What's your current perfume scent?


A woman is never sexier than when she is comfortable in her clothes.
~Vera Wang
TWITTER!
MyLifeAsCarrie